Whether it's picture books, graphic novels or chapter books, I tend to be a fiction reader. But with the help of my pals in
Nonfiction Navigators
, I am pushing myself to read more nonfiction. Our group's book for September,
Kakapo Rescue
, won the
Sibert Medal for informational books
for 2011.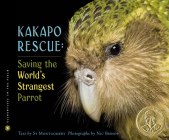 Kakapo Rescue: Saving the World's Strangest Parrot
(from the series Scientists in the Field)
text by Sy Montgomery
photos by Nic Bishop
What it's about:
Scientists on Codfish island off the southern coast of New Zealand are striving to preserve and increase the small remaining population of Kakapo (KAR-ka-poe), a large, nocturnal, flightless parrot.
What I love:
Montgomery's writing immediately pulls you into the book telling the story of the "nest minders" keeping watch over a young chick. She continues with great pacing that connects the reader emotionally to the birds and chicks: Lisa, Flossie, Richard Henry, Bill and others. There is humor with the story of the Kakapo Sirocco who, raised by humans, wants to mate with humans. There is the true happiness that comes with the miracle of birth when Jeff (one of the scientists) holds his first Kakapo chick. And there is the very real sadness that comes with the struggle to save a species one rare egg at a time.
Kakapo Rescue
does not create a simplistic feeling of hope by sharing one example of a success story, but rather it imparts a sense of deep hope with sadness around the edges by sharing a true picture of the many dedicated individuals struggling to save the tenuous existence of the uniquely beautiful Kakapo.
Other connections:
This would make a wonderful nonfiction read-aloud for middle grade students. The Kakapo are such endearing birds, many students interested animals and endangered species would be riveted.
I plan to use the first chapter about the nest-minders for future book talks.
"We could be witness to one of the most thrilling conservation success stories in human history -- or one of its noblest but most tragic failures."
(
pg 3 of
Kakapo Rescue)
Meet the Author Sy Montgomery